What's the trouble do we have?
When we handle many photos ,the first work is to delete the duplicate photos. The duplicate photos will arouse many problems if we ignore them. If we upload two or more same images in a passage, readers will refuse to read it because the text is not relate to the images. This situation immediately lead to the descending viewers of the passage. If we upload large numbers of duplicate photos to the online platform, the search engine will verify them and consider the content inferior. Eventually, your online platform or account will get less chance to get close rate.
None of us wants the troubles above will happen. Maybe most of us input large quantities resources to complete the process of the operation and improve revenue of the company. However, when the details cannot be managed well, the big problems will float someday and the solutions may not be so easy.
Finding duplicate photos seems to be easy if the total number of them is small. At this rate, one can finish the work quickly, several minutes or less. Yet we meet thousands of photos , the work can be delicate. Finding duplicate photos among large numbers of photos will take much more time. Without help of software , filtrating duplicate photos will be an endless work. At this time, we should take Duplicate photos Finder Pro into consideration. At present other duplicate finders cannot match it. It take short time to find all the duplicate photos at one time.
Direction for Use
Open Duplicate Photos Finder Pro and select some conditions such as Ignore Read Only Folders, Include Sub Directions, Include Images to confirm the duplicate finding is accurate. The "Search Directories " is on the left. Please click the green plus sign bellow"Search Directories" to add the image folder.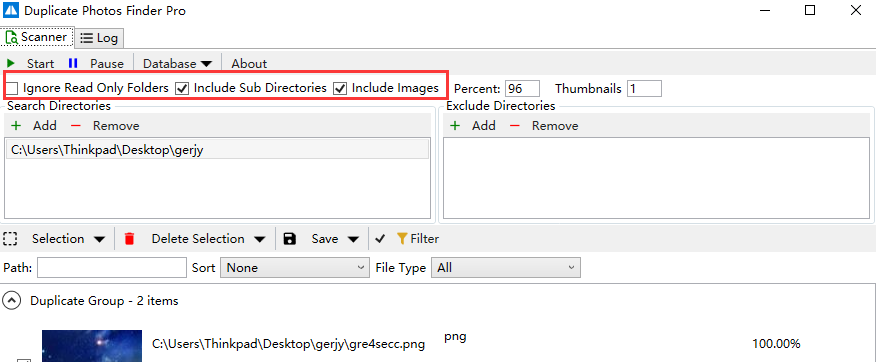 Select "Start" to start finding duplicate photos. During finding process, you can select "Pause" if you want to stop the process. Database is also on the surface too and you can check it if necessary. "Log" is on the right side of scanner. It records the logs while you are using Duplicate Photos Finder Pro. The detailed logs are here for you to check or output. There are several selection options for you to choose. After finding process has accomplished, you can select the conditions bellow to pick the very one you want. The "Filter" is on the right. This option provides more accurate information for you to select the images.

You can filter images by path, sort, and file type. You have to type words in the path box to select the images. There is a drop-down list in the "Sort" option and once you click it, several options show up such as size ascending, size descending, resolution ascending, duration descending, and so on. The "File Type" covering images and videos. Last but not least, don't forget that Duplicate Photos Finder Pro can also find duplicate videos.