The Result of Using Duplicate Photos
Many people nowadays are finding duplicate finder tool over the large amounts of workload concern. Online shops or social medias need to use large numbers of pictures to describe the detailed information. Among these large amounts of picture, the number of duplicate photos is of great quantities. If the owner of online store or social media have uploaded duplicate photos to their online accounts or stores, the search engine will consider them poor quality content or unrelated one to the passage they written. The result can be severe and lead to the fewer readers and customers.

Use Duplicate Photos Finder Pro Wisely
We know dealing with duplicate photos will take you a lot of valuable time. But this work is necessary and it can be solved wisely by using Duplicate Photos Finders Pro. No matter fro time-saving and decreasing workload perspective. This world is changeable and the solutions is getting more and more popular. Not only can it find duplicate photos,but also it can find duplicate videos. Most importantly, the working process of finding duplicate images or videos costs short time. Many users concern the amount of time that Duplicate Photos Finder Pro takes. If more time it will take , fewer people will choose it. We are confidently tell you that the Duplicate Photos Finder Pro is really a time-saving choice for you to deal with duplicate photos. Also, it can find duplicate ones accurately and effectively.
The Important Function-Delete Selection
Tail-in work is vital to the whole process. After finding the duplicate photos, sometimes we want to save them to other folder or delete them. Duplicate Photos Finder Pro provides four selections for users to delete or saving their images. Now we are here to introduce them one by one.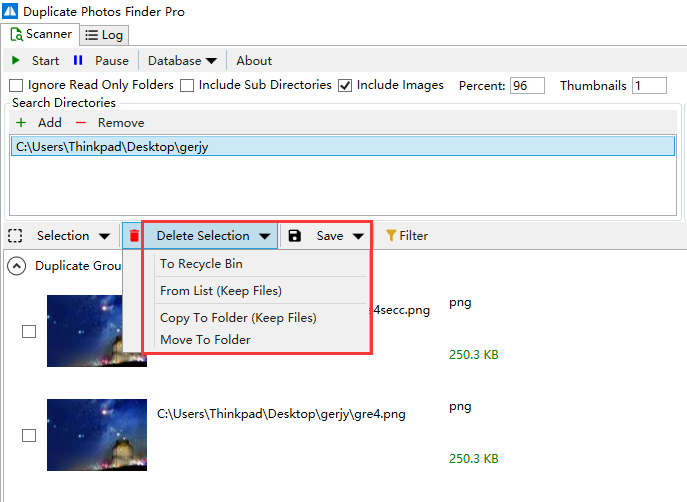 To Recycle Bin- This can help you delete images directly from the origin folders. If you choose it,it means you delete the image to your computer dust bin. Further more ,you can retrieve the deleted one from dust bin if you need to use it.
From List (Keep Files)- This selection can only delete the image from duplicate photos finder list. It doesn't delete images from origin folder. It is often used in the circumstances that you need keep both same photos. Deleting the one you checked will not influence the images in your folder.
Copy to Folder- Do you want to save the images to a new folder? If the answer is yes, please select this one. When it has finished finding the duplicate images you can move the duplicate ones to a new folder and save them. Namely, it is equal to copy a photo to another folder.
Move to Folder- Sometimes, you nee to put photos in order and move a few of them to a new folder, this one is appropriate. It means you cut the images from the origin folder and paste them in another folder.
This part is mainly tell you how to use Duplicate Photos Finders Pro wisely and get familiar with the Delete Selection. Thanks for reading.