Screen Rcorder Pro
We always want to get one efficient and useful record tool . Today ,I confidently tell you ,your dream can completely come true. The powerful APP-Screen Recorder Pro for Win 10 is the very capture tool we bring to you. Screen Recorder Pro is an amazing tool designed for Win10 system. It is considerate for users to capture screen, audio, motion pictures, and keystrokes.
Most of you are familiar with the recorder tools. We use them almost every day. For example, to record contents including lectures, meetings, online education, etc.
What is Screen Recorder Pro?
Screen Recorder Pro is a tool for recording the motion on the screen of mobile phones or computer. As a successor to UWPLAB, it is used by millions of people around the world. Its clean interface and feature-rich tools help you unleash your creativity and enhance your productivity. With this powerful tool, you can record anything on the screen including selected areas, applications, active windows, and so on.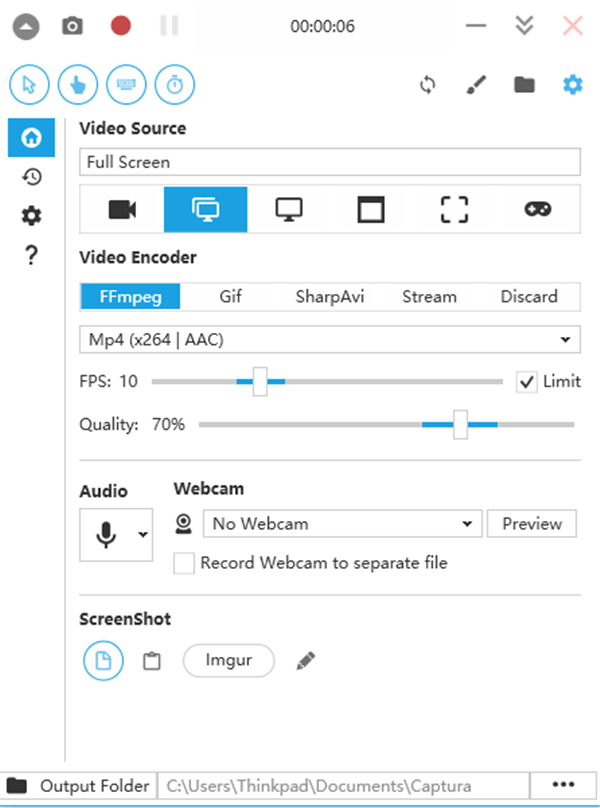 Great-looking, well-structured
The interface of cool screen recorder is concise. You can easily understand the buttons' meaning. On the home page, you can choose the record mode and format (mp4,avi, webm ).
There are several choices ,namely "Only Audio", "Full Screen", "Record a specific window", Region(Choose the record region by yourself). Desktop Duplication is for game recording.
If you are a teacher and want to record online course, the useful tools-"include cursor", "include mouse clicks", "include keystrokes" will be popular. With them on, your record works will be professional.
Do more – effective, comfortable
The Video Encoder area provides FFmpeg, Gif, SharpAvi, Stream, Discard for professional video recorder users. It will help them to create vivid and beautiful videos. Another thing we would like to tell you is setting Audio and Webcam accordingly. Incidentally, the default format is good enough for most of the users.
Smart and considerate, now and forever
Whilst finishing recording, you don't have to press save. This smart recorder will save the content automatically. You can find the video in recent area.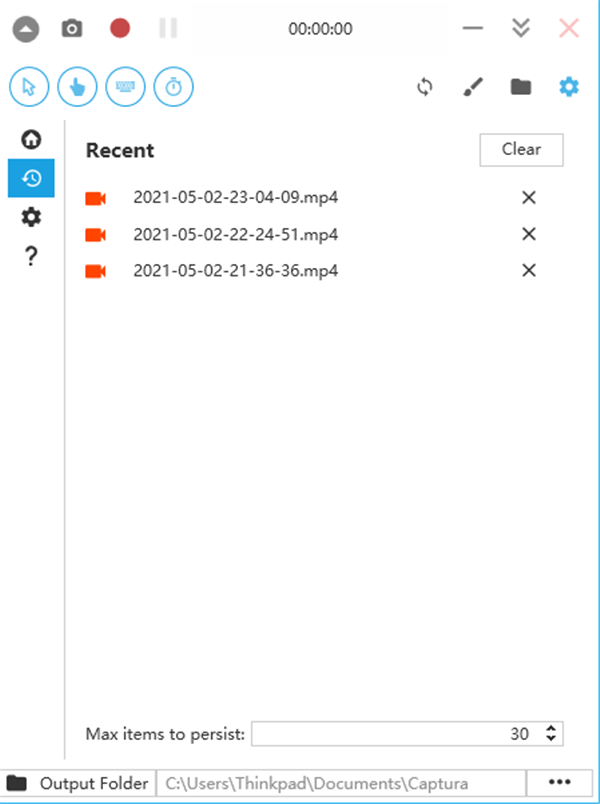 Record memorable moment
Not only can you record videos and audio but also you can take screenshots. Now we'll tell you the details to get screenshots. The camera icon is on the top left corner of the interface. After clicking the icon, it means you have finished one screenshot. At the very moment, a dialog box shows immediately for you to edit the image and a notification shows up at the same time with words" image saved to clipboard". You can find the finished screenshots in clipboard area.
Use Videos of all kinds
You can record videos of various sorts including mp4,avi, webm.you have maximum control over your data and content. Features below for your reference,
-Take ScreenShots -Capture ScreenCasts (Avi/Gif/Mp4)
-Capture with/without Mouse Cursor
-Capture Specific Regions, Screens or Windows
-Capture Mouse Clicks or Keystrokes
-Mix Audio recorded from Microphone and Speaker Output
-Capture from Webcam.
Download Screen Recorder Pro in your language and discover how it can boost your creativity on a day-to-day basis. Start a remarkable memory record from now on.
Related – Our other good and free app for you
FreeZip
Free Zip is a free file archiver utility, multi-platform portable file browser and archive manager utility, as a free alternative to traditional Zip file utilities such as WinZip and WinRar.