In order to use screen recorder pro correctly, you have to understand some tips about it. Now we'll give you a detailed introduction. After reading the passage bellow, you are able to work efficiently while using Screen Recorder Pro.
Let's look at the radio area first.
On the top right corner, there are some basic setting buttons, which include cursor, mouse clicks, key strokes. If illuminated by clicking mouse, the button will take effect when you begin to recorder. Most of them are used for recording teaching curriculums.
On the top right corner, there are some simple function keys. They are minimize, minimize to system tray, close. All of them are to be used for control the system window. Of course, our software design is reasonable. You can see another four frequently used buttons under them. We provide refresh, Open canvas, open output folder, and configure for users to edit images and videos." Open canvas" is to edit images. You can also edit pictures that saved in your computer. Please click "file" then choose open to select the image you want to edit. Also, it is accessible to
Open output folder by choosing "open from clipboard" .The configure option in this area is mainly to set up proxy, sounds, and hot-keys.
Record video
When you begin to record video, please choose one of the recording modes-only audio, full screens, screen, window, region, and desktop-duplication. Then click the red dot on the top to start recording. Please note that every time you stop or pause recording, the notification will pop up to tell you the place where video saved. The desktop-duplication is only used for recording game videos. But, at present, not all games can be recorded. Please don't worry about that, we are going out our way to develop new features to meet your requirements.
Incidentally, setting video parameters is necessary while recording. Especially for some professional photographers.
Screenshot
To take a screenshot is one of the special features. We combine audio, video and screenshot together to create this powerful software-screen recorder pro. It certainly is easy to use. Just click the camera icon on the top left corner and a screenshot has been taken. Then, you can edit the screenshot. The screen shot will be saved automatically to clipboard after you take it. And you can also find it in the recent area.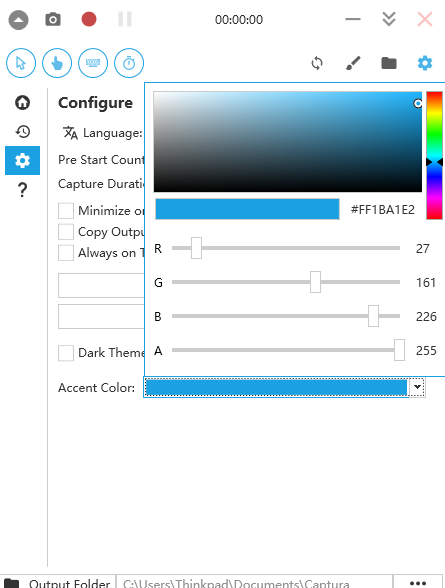 An interesting thing
We must say it is interesting. Because many people are fond of special setting-Choose favorite color for cool screen recorder. Please find the configure button on the left fringe, then click it you can see Accent Color on the bottom. Various sorts of color here for you to set. The default color for screen recorder pro is blue.
Cherish every moment of our life because every day is valuable and unique. You can be a good designer, nice photographer, even a popular expert in photograph industry. Download screen recorder pro you will find it help you a lot. We hope you get a remarkable experience while working with it.