Why do users like to use Screen Recorder for Win10 ?
Thanks to a powerful screen recorder, people can accomplish many amazing works. Before this impressive software has launched, most of the users puzzled about recording videos and editing them. With the severe epidemic's influence , almost every workers have to work from home. Although this dreadful situation happened last year, the fearful memory still remains in our mind. Under this hard circumstances, workers have to overcome countless questions and resolve the problems that seems not to be tackled at home.
Once working from home, the necessary assignment and routine work are inevitable. Staff hold teleconference with leaders . They have to upload much more materials by internet than they are at office. Occasionally, the distance training must be finished online. Because of the long-time training, many staff may cannot get the main point. Someone may think it difficult to grasp the main idea of the conference so they want to record the the class by themself. In this way, they can review the content explained in the training course and prepare well for the work forward.
Different Records Mode
Screen Recorder pro for Win10 provides different record modes for users. They are "Only audio, Full Screen, Screen, Window, Region,Desktop Duplication." And there are corresponding video encoding for each record mode. This is the obvious function for users and we design the function for the professional users. Hope the useful function will help users a lot.
For some teachers want to teach online, they can record their episodes for learners. By the way, there are several tips we would like to tell you so that you will take full advantage of Screen Recorder for Win10.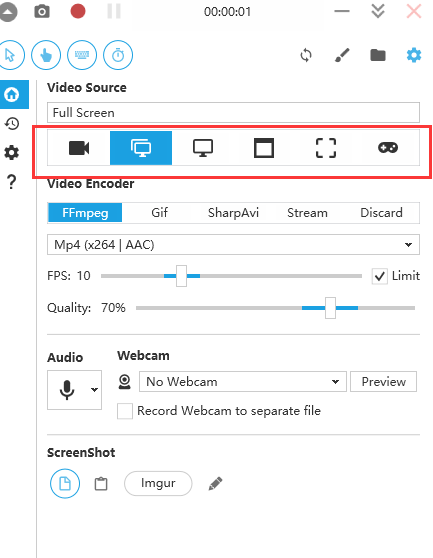 Select the appropriate record mode before starting your work. We suggest you select "Region" .
Maybe you are intertwined with the video encoder. Please don't worry. We believe MP4 format will be favorite.
You'd better open "Include cursor , mouse clicks" to let learners know key point.
If online teachers adopt the suggestions above, the common problems will have no chance.
One Company Worker's Experience
It makes us surprised that the feedback of the products is positive. One feedback impressed us lot is from an ordinary staff in an Internet Technology Company. He stressed that  the screen recorder for win10 did help him a lot. He has tried many recorders before but they aren't compatible with win10. It directly lead to poor quality recorders.  Screen recorder for win10 is appropriate for most users' requirements. They can find the history recorders easily and edit them again. This staff also mentioned that the "Open Canvas " is like the helpful assistant. He often mends images via using it. Most amazingly, he can use "Open Canvas" to analyze the structure by drawing lines on it while all the members are holding teleconference. This is equivalent to provide an image editor tool for users.