In information technology era, almost every aspect of life and work is closely connected with information recorder. Screen Recorder & Webcam Recorder is an upgraded software. With clear surface and concise direction, it enables users to finish their work faster. Once you install and open it, a home page with three buttons (Recorder, Camera, Board, Editor) popped up. The choices of the functions is clear at one glance. Users don't have to spend too much time to learn the software before using it.Yet, some of the functions are hidden behind the software so this time we introduce several user guides for you. With the help of the user guides, whether recording or editing content, there is no barrier to accomplish all the works.
Recording Videos
After starting Screen Recorder Webcam Recorder(SRWR), A box contained four buttons (Recorder, Camera, Board, Editor)popped up first to tell you the four major functions on the software. Please choose the buttons accordingly. For example, if I want to record a video,I have to click Recorder. Then I'll see a transparent box with record and stop button on the bottom right corner. So easy for you re record, isn't it? If you want to take photos, please use the same method as I told you.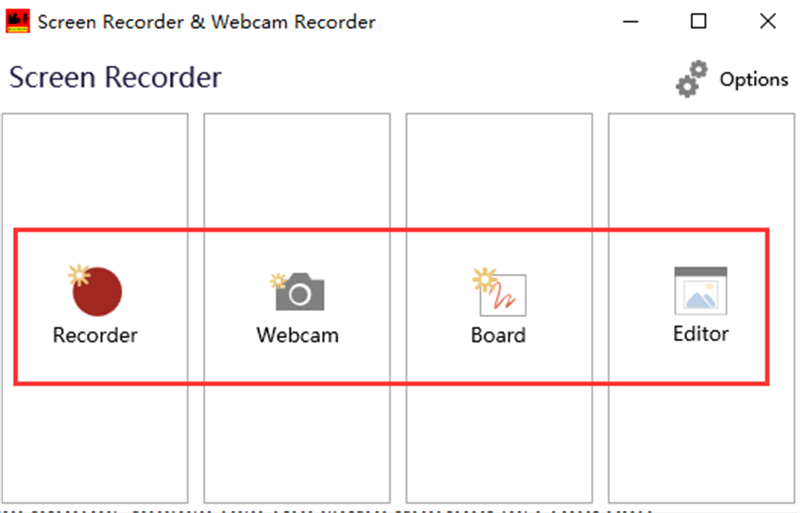 Interesting Draw Boarding
Drawing boarding is not only interesting but also important. It can record the movement of drawing. You can choose color, all sorts of color available,to draw simple pictures. We believe this function is quite popular among lecturers. Clicking "Board", you'll see a white box. On the bottom right corner of the box, you can set width and length of drawing box and the frames in every second.
Editing Freely
Select editor button you can enter into editing interface. Most of the functions resemble document software. You can undo,reset,paste,cut the videos or images. If you want to record another video while editing the current one,please press "Yes" when a box pop up asking you whether discard the previous video or not. This practice have to be done immediately after you finish recording the new video. Similarly, you can also create new animations . Press the "New Animation" button and set width,length, and background color to start your work.
To make your works more vivid, inserting other contents is indispensable. Luckily, Screen Recorder & Webcam Recorder(SRWR) completely supports this function. On the Document Interface you can find the insert buttons (Insert recording, insert webcam recording,Insert Board Recording,Insert from media) . Please choose them accordingly.
The home page mainly provide the basic editing functions such as cutting,paste,copy. Please note that every video can be cut and divided into every frame. In this way , it will be convenient for the professional users to filtrate important video clips.
Editing image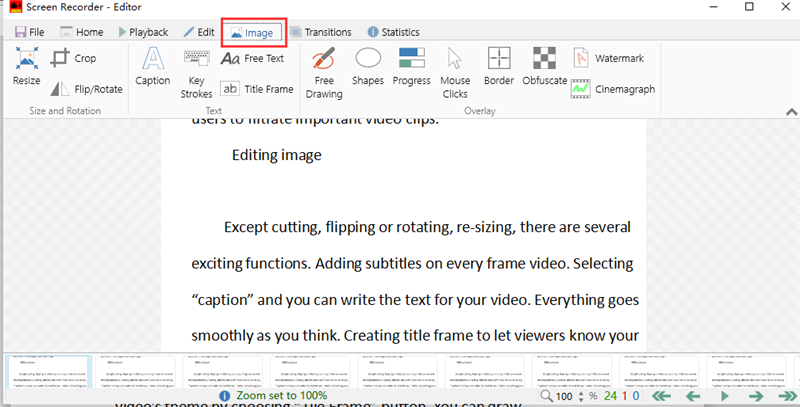 Except cutting, flipping or rotating, re-sizing, there are several exciting functions. Adding subtitles on every frame video. Selecting "caption" and you can write the text for your video. Everything goes smoothly as you think. Creating title frame to let viewers know your video's theme by choosing "Tile Frame" button. You can draw freely ,simultaneously, choosing different shapes including triangle, rectangular and ellipse. After all the process done, you can add watermark and set it specially.
We believe Screen Recorder & Webcam Recorder is the most popular and helpful recorder tool in the globe. After downloading and trying it, you will find recording and editing videos simple.